Hi all!
So I've struggled a lot in getting StarDist training to work with gputools which is worth it for us, as we see a speed improvement of about 2x when training a new StarDist model.
Issue is that it's rather contrived to install on Windows 10. Actually I had it working on one machine but the protocol failed on a newer installation.
So I made a 20 minute video on how to install TensorFlow with GPU support in general and gputools support for StarDist in particular.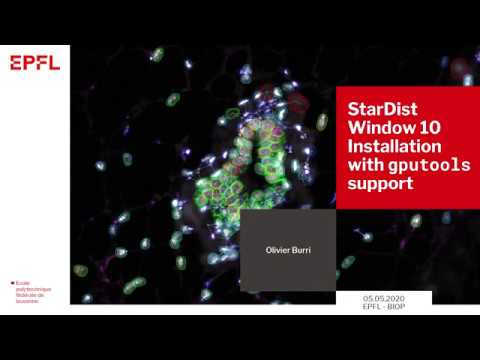 The summarized documentation is here
https://c4science.ch/w/bioimaging_and_optics_platform_biop/computers-servers/software/tensorflow-gpu/miniconda/
This is useful to me and hopefully it can help people who think that this is a good idea.
All the best
Oli
PS: Feel free to go and check out the cool Webinar @mweigert @uschmidt83 and @superresolusian and I participated in explaining StarDist and showing how to use it.